004 ☼ Shopping is a Feeling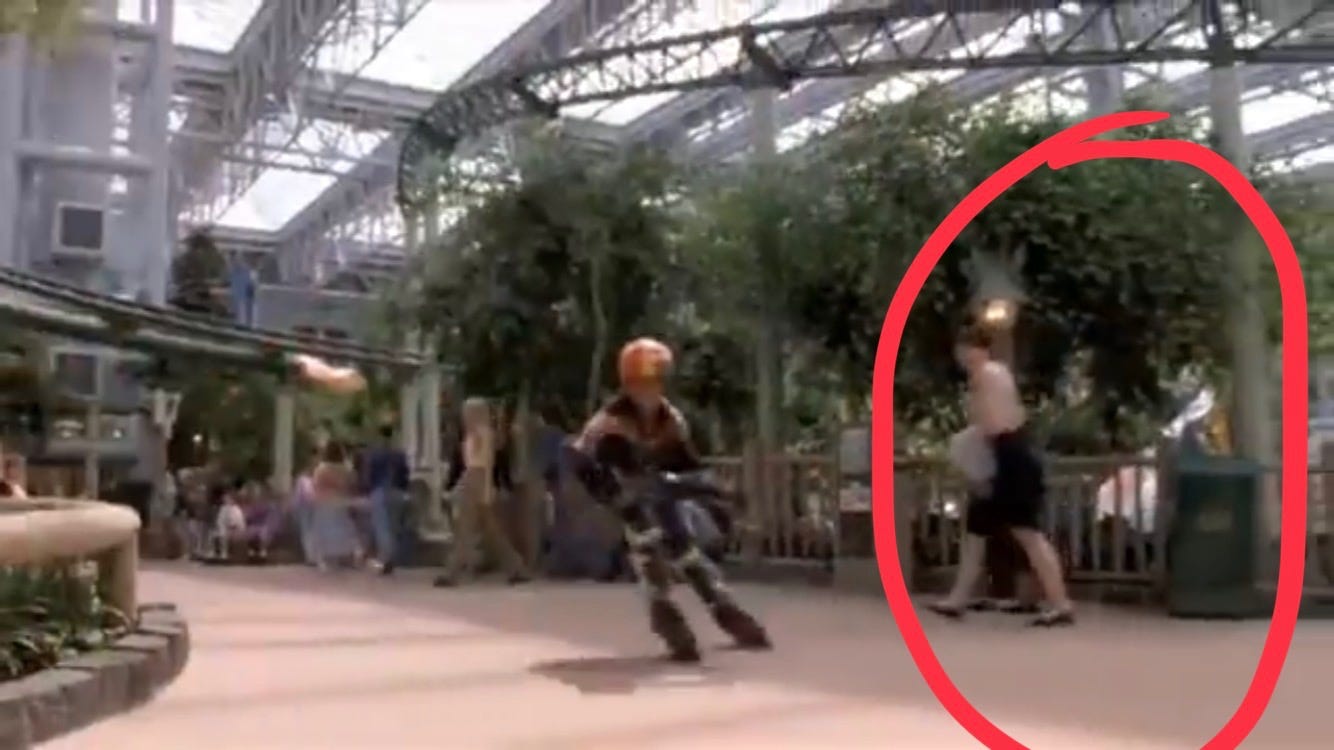 My late Grandma Pauline is in the 1994 Mighty Ducks sequel, affectionately and officially known as D2: The Mighty Ducks. And by in the movie I mean she was hired as an extra and you can see her slip-on shoes for three seconds in the Mall of America rollerblading scene, which was filmed in Minneapolis where my grandparents lived. The Mighty Ducks franchise was huge in my household. I was eight and my brother was six years old when the sequel came out and we shrieked in the movie theater, frantically looking for my Grandma Pauline. Once the VHS was released, we played it over and over and every time the mall scene came on we'd pause the tape and scream, pointing to her tiny feet (featured above, she's behind the woman in pink) and celebrate her celebrity status. Our tiny, sparkly-eyed grandma was FAMOUS. Visiting Minneapolis was never my favorite, but I loved Grandma Pauline and I loved the Mall of America which had a Peanuts theme (think giant Snoopys) and an entire amusement park with a bowling alley inside. Sadly and though we begged, you are not allowed to rollerblade in the Mall of America. 
Born in the eighties, I grew up at the mall. When I was a kid, my mother worked as a professional Christmas caroler in full Edwardian dress (lol) at Horton Plaza, the Jon Jerde postmodern clusterfuck that people compared to an M.C. Escher sketch. It opened the year I was born and was a fantasyland to me. I called it my Christmas mall because I spent so much time hanging out in the holiday train shop whose owner my parents trusted while my mom sang Christmas carols in a velvet bonnet. 
My second mall was Grossmont Center, which is mostly an outdoor strip mall filled with flower planters and my beloved Barnes and Noble (my suburban portal to all worlds away from my own). The solarium style food court is still intact despite having only a handful of eateries open. Long gone is the photo booth I frequented on a regular basis throughout junior high and high school where I documented my changing face, haircuts, and outfits with self-portrait strips in a pre-selfie world. My third and fourth malls were Parkway Plaza, where I spent most of my pre-teen years with my musical theater friends and Fashion Valley.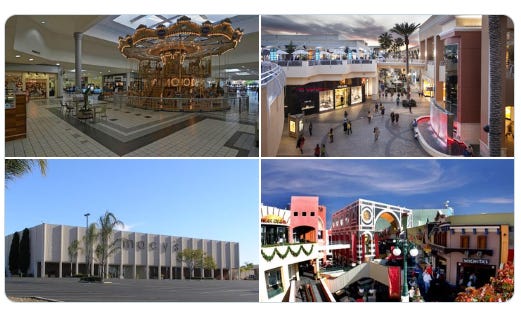 (Clockwise from top left: Parkway Plaza, Fashion Valley, Grossmont Center, and Horton Plaza.)
I've visited all four in the last ten years and wandered through them like a lone ranger in a ghost town. If I could categorize them by memories and aesthetic I would say my most neon teenage times were at Parkway—it was closest to my shitty Christian high school—where I held hands in the movie theater for the first time, where I ate Hot Dog on a Stick with my friends in the food court and spent my allowance at Wet Seal, and where I ran through the indoor corridors to get my ears pierced on a whim last minute an hour before my high school graduation. 
Fashion Valley hosted the most class shame I'd felt while shopping with friends who called Bloomingdale's "Bloomie's" and who wore Mac makeup and Tiffany's jewelry. The most stress crying happened here while shopping or attempting to shop with my mom. The rift in my gender identity was felt acutely across Fashion Valley's open air floor plan in a phase where I didn't want to dress feminine, nor did I want to slurp tomato soup at Nordstrom's Cafe and gossip about whomever. Fashion Valley was the stucco stage where my mom broke down because I was wearing "boy's clothes," it was the mall that felt like Christmas in the worst way, not like Horton Plaza, all year round.
Grossmont Center feels the saddest perhaps because it's the oldest in my memory. Here was where I bought a completely ill-fitting ice blue dress for my winter formal where I was so shy I was unable to speak to my date (who was a senior to my freshman, scandalous), where true depression struck me for the first time in junior high, where I read all the books I'd come to love in a basic box brand franchise and gained considerable weight drinking too many Frappuccinos at a new shop called Starbucks. 
Grossmont was where I was my most basic self, my moon sign mall, the closest to the house I grew up in and therefore most adjacent to all my girlhood pain. Grossmont had a sprawling back parking lot overlooking a hill. I learned how to skateboard in the parking structure and I used to lay on the hood of my ramshackle Volvo with my best friend and watch the sunset. I say this way too often but parking lots are my prairies, my paved-over free range in parochial suburbia. The breadth of asphalt meant a field of matching sky, and sky meant something other than my sleepy home town La Mesa, our church, and all the streets without sidewalks.
What this piece on Mallwave by Hussein Kesvani for MEL describes blew my mind the first time I read it—so much so that I spent a semester of grad school writing about it. To summarize quickly: teenagers are making electronic muzak and pairing it with VHS footage to replicate the feeling of being at the mall, an experience that the majority of them never had. The phenomenon of Gen Z teens feeling nostalgic for a surrogate experience made me wonder what they were mourning in the first place. As public life becomes haunted by the specter of violence and the gunmen who stalk its grounds, places like malls become emptier and emptier (though I know that isn't the only issue affecting the mall's decline). The conundrum, of course, is that people still use the mall, for example in the sunbelt or in less populated areas where malls and outlet centers are often the only places people can get shopping done or pick things up that may take too long to ship. 
Do kids feel deprived of the mall experience as a common public space? Or do they long for the aesthetics of the mall experience as seen in films that mythologize teendom as a time of frivolity like Clerks (1994), Clueless (1995), or Fast Times at Ridgemont High (1982)? In the fantastical mall scene from David Byrne's film, True Stories (1986), Byrne describes in a sincere tone, the evolution of the mall's popularity in middle class consumer culture. "The shopping mall has replaced the town square as the center of many American cities," Byrne explains, wearing a cowboy hat. "Shopping itself has become the activity; it brings people together." So effervescent was the narrative around shopping as a prosperous activity and shopping malls as the meeting place for bootstrapped Americans, it never imagined its own demise. Only twenty or so years until e-commerce shifted the shopping experience to be an individual, online venture. Byrne's statement that the city center moves to wherever the commerce goes ("Shoppers here go wherever the bargains are. They don't care—wherever it's convenient to shop. They don't care if it's in a funky downtown building or in a clean modern building like this,") means the center of public life moved online. Mallwave (also called Mallsoft) then, is an effort to revive the life of the mall—online. A virtual mall. The mall the kids missed by virtue of being born too late. 
As Byrne describes the bustling shopping plaza in True Stories, replete with smiling faces and indoor plants, "in here, the music's always playing. What time is it? No time to look back." Except when the end times are perpetually looming on the horizon, there's nowhere else to look but behind you, back to a world that felt more tenable with or without you. Even teens envision the apocalypse, but it's a wash of gradient pastels centered on the death of a capitalist emblem of architecture. Within the confines of Mallwave, subscribers are borrowing a sense of loss for an era they never experienced in order to express a loss of their own—not knowing what the world looked like without seeing it through a screen—what life was like without the internet. In a sense, they're mourning what capitalism has taken from them: the experience of being an anonymous, carefree teen anywhere but online, maybe even at a public place like the mall where they can be independent and vulnerable all at once.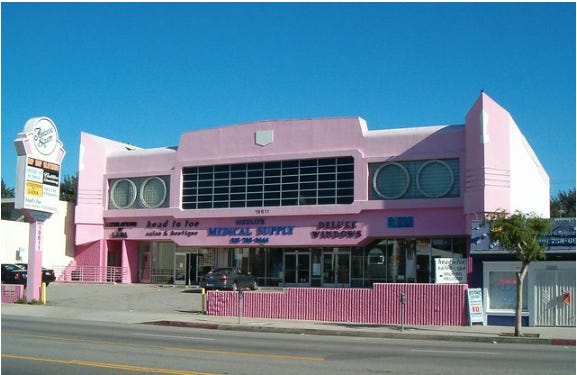 I recommend: These two music videos filmed in mall-ish places:
1. Solange, "Lovers in the Parking Lot" — A music video I have watched exactly 100 times in order to memorize the choreography (mostly unsuccessful). It's also a tour through King's Best flea market in Houston, where Solange spent her adolescence. In a piece for Vice, Solange explains it felt natural to "tell those stories in a place that's inspired so many of them." It's early Solange, the dancing is weird and perfect, Solange is god.
2. Fatboy Slim, "Praise You" — Apparently Spike Jonze, who directed the music video (with Roman Coppola), did not bother to tell anyone they were making a music video in front of Westwood's Bruin movie theater in Los Angeles so the people in the background are reacting in real time. 1998 was a great year. I sound like an old man in a YouTube comments section.
Revisiting this story about the artists who lived inside a Rhode Island mall. So bizarre but so impressive.
This Twitter thread on California strip malls. There are so many good links and information in this thread including a video on Catherine Opie's photo series, "Mini Malls" and this 1997 LA Times article on the history of the strip mall. Let us also not forget one of Jonathan Gold's dining rules about strip malls: "If the restaurant you have been directed to lies between the 7-Eleven and the dry cleaners in a dusty strip mall, they you're probably at the right place." My personal favorite, at least visually, is Fleetwood Square in Tarzana. Apparently the headlights are composed of 600 glass bricks! Speaking of facades, read this story on the BEST store architecture and check out this gambling themed Fry's Electronics in Las Vegas and this one in Austin, Texas which is a freakin' piano. Does anyone remember Circuit City?
☼ Questions? Comments? Links to share? Secrets? Send them all my way. I love to correspond. Thank you kindly for reading. xx