009 ☼ Meditations in an Emergency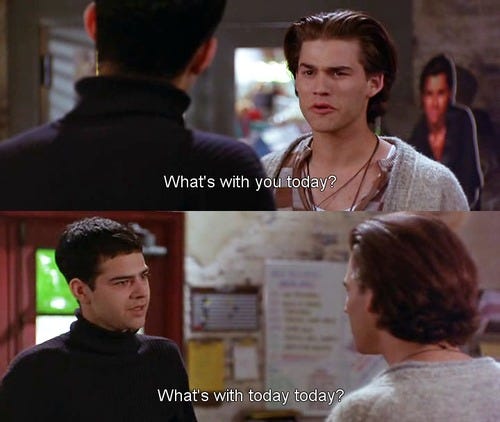 I left the house today. I saw a gloved man hand a bag of snacks to a homeless guy downtown. I saw a poodle in the backseat of a convertible. I witnessed a woman cross the street in the middle of traffic because there wasn't any traffic. I saw the ocean through the car window and felt like crying.
I'm at my parents house in San Diego, which is a blessing, but their habits are so different than mine and I find myself struggling to be an adult woman rather than their adult child. I read somewhere that when you stare or see the same interiors and surfaces for a certain amount of time, your brain stops registering them. Your eyes gloss over them as though they aren't there, and the interior of my mom's house is a variety of beiges, creams, and taupes so leaving the house today was important, as a writer and as a human person who's been self-isolating indoors, dutifully, for 15 days.
To pass the time, I watch a lot of action movies with my dad and he hands me a cookie once or twice a night (he's really into cookies). I listen to my mom sing a lot and talk on the phone in the pig latin-style language her and her best friend invented together. I still don't know what they're saying.
I feel I'm a decent roommate and a helpful daughter: I fixed their Wi-Fi, I cook them meals when they forget to eat. I have hidden their car keys to prevent them from going outside (they have to ask for them each morning). I'm parenting my parents and doing so came sooner than I thought if only because they're both on the precipice of retirement but also stubborn Protestants who will probably keep working until they're near death. They'd never ask for help but the longer I live here, the more I realize they need mine.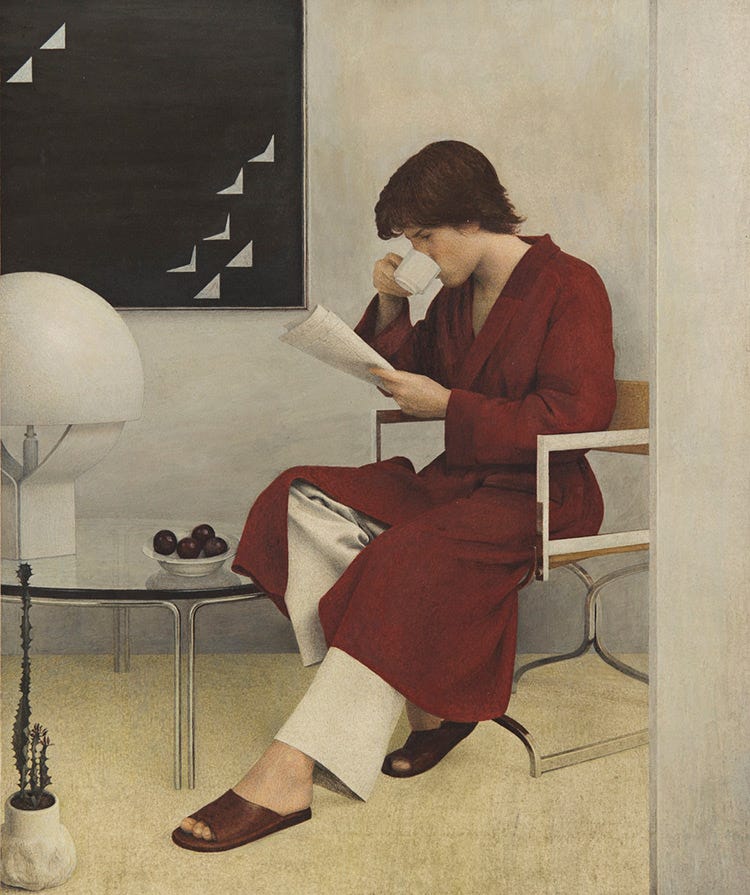 I've been off Twitter since September and it feels great though I do miss the jokes. The boycott is in effort to work slower and on a bigger writing project about ghost towns with research that I've been sharing with you here in this newsletter. As cheap as it feels to say, the world feels like a ghost town but only in the abstract because you can still sense the energy of people inside their houses, cramped and waiting to leave. It radiates though public space. We're haunting the spaces we occupied so recently and some of us still have to go to work.
Today I saw more people outside than I expected to and all of them with hands bare and faces without masks. I anticipated a more serious scene but it just looked like another day in paradise here. Perhaps it's because the sun is out. People were socially distanced. A microscopic plague is hard to envision when it has yet to personally affect you. And maybe it's just that this waiting gets boring which is why I finally left the house today, so how could I blame them?
Maybe the world will feel more like a ghost town when we all return to the life we used to live before this whole thing happened. I'm thinking specifically about people who were installing art exhibitions, I picture their materials waiting on the gallery floors behind boarded up windows. I think of empty rooms full of paintings.
I imagine going back to old ideas would be unsettling the way it feels to get back in your car after you've left it sitting in the parking lot for a couple of weeks or a family cabin you hadn't visited in years—the smells of the last meal you ate or which radio station you left the dial on. Or like opening your computer to yesterday's tabs. I call those The Yesterday Feelings and I mostly hate them but now I'm wondering if they're the only thing that'll tether us to the way we used to live. And if it's even important that we remember the way we lived because this new way is yes, draconian and scary, but it involves a lot more cooperation and a lot more connection and a lot more compassion and a lot more dare I say, socialism and that part of it is good though it comes at a harrowing cost. Will the world catch in this pattern a little bit longer, not just because of trauma but because people will realize that living together, being generous and charitable, and foregoing productivity for kindness is just a better way to live?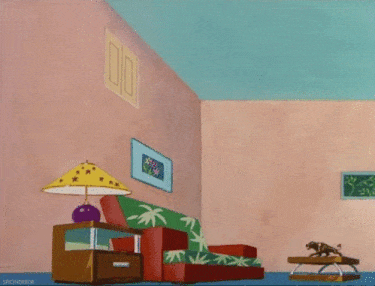 I asked my dad what day it was yesterday because I forgot. He told me it was Wednesday. I told him I thought it was Monday. We are both wrong because when we looked at our phones, we saw it was Tuesday. What is Tuesday anyway?
I have no real routine other than making my bed and drinking exactly one cup of coffee. When I come downstairs my mom is already sitting at the table working on her puzzle. "This one is so hard," she says. She says that every morning like clockwork. She sighs. We both know it's not about the puzzle.
The interior conditions of quarantine are similar to the way I behave when I'm feeling depressed. I'm trying not to sink too low. It's been odd because there's not a lot of sunlight in my childhood bedroom where I'm sleeping, and that fact alone: staying in my childhood bedroom where I first experienced the crush of depression. I'm in emotional ground zero though the room's been redecorated. In a way it's comforting and I feel very safe here but for lack of any sense of normalcy, I may be regressing. I even sleep with the stuffed animal I slept with as a kid. It's so soft.
The other night, I looked at a photograph of my Grandmama holding me as a baby for about an hour and then wept on my bathroom floor. When I sent it to her over text, she had the same reaction: "I wish I could hold you at that age again."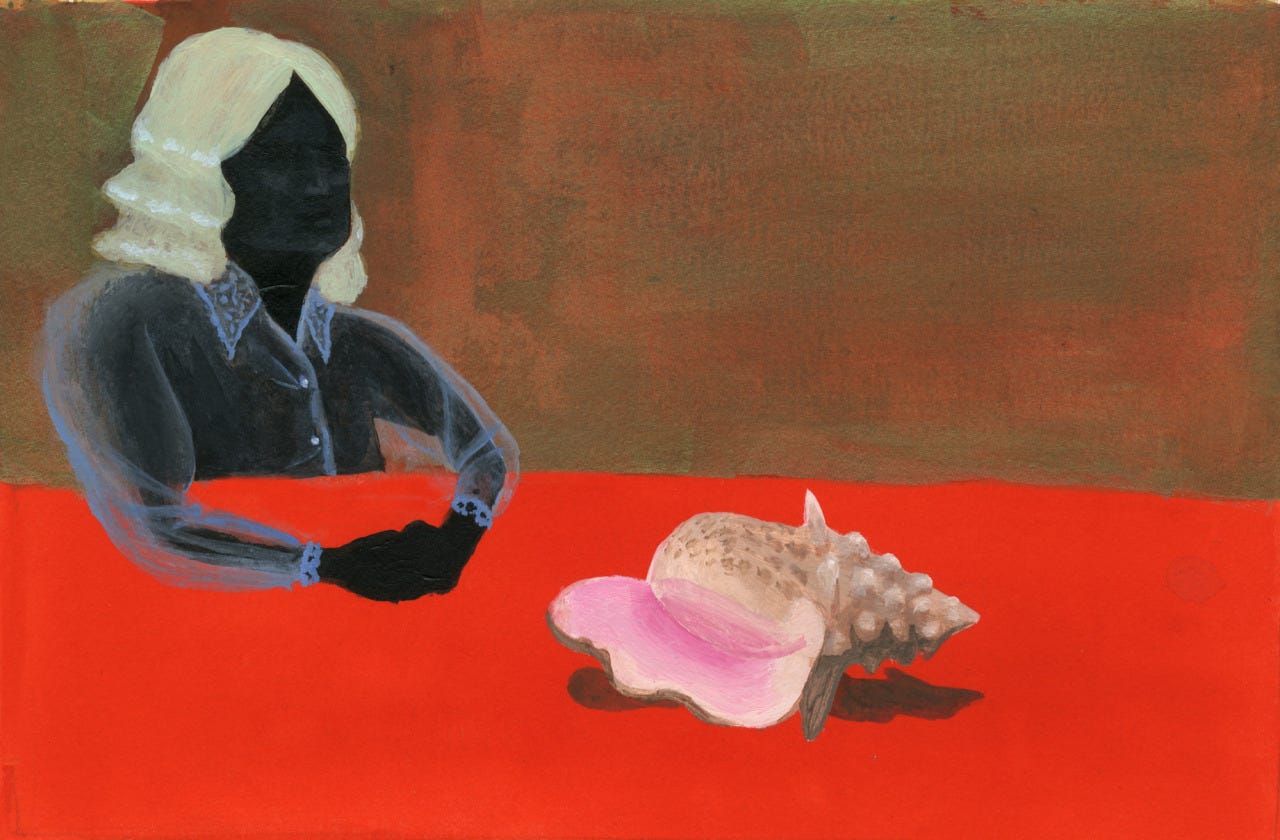 I've always been very gentle on myself in times of less than stellar mental health. Every and any morning I feel bad about whatever I did the night or day before—if I had indulged in watching too much TV, or ate too many cookies with Dad, or drank too much and snapped at my mom, or ignored my Zoom invites in a low mood (friends: I'm sorry)—I forgive myself. As a practice and as a principle, I forgive myself. It helps me let go of everything I did the day before and to move forward into the ways I want to live today and tomorrow. Yesterday was done yesterday—it was just a vapor we passed through in this quarantine time, so go easy on yourself.
Things that make me feel good: going outside and tilting my face to the sun if it's sunny. Taking deep breaths. Chasing the dogs. Reading poetry and books with short sentences. Brushing my hair even though no one will see me. Stretching. Taking pictures of the sky. Helping my dad cook some veggies. Laying in bed and talking to my friends on the phone. Watching Jeopardy! and Wim Wenders movies.
I made my Spotify playlists public. Because I'm in grad school and my anxiety is routinely thought the roof, I hope you'll find some of these tunes as soothing as I do because that's what these playlists are designed to do. I've also linked some of my favorite essays I wrote in the last year or so—not so much to help you remember who I am as a writer (although that is somewhat of a goal as freelance budgets get slashed left and right lol) but because I think the topics are relevant to what we're going through, about the world we are living in and moving through even though we're staying inside:
On looking for art outdoors, experiencing disaster through images online, citrus season, and butterflies.
.
.
PATRICK DUNFORD
Welcome to Sidewinder Pass
March 14 - April 17 .
.
"Sign in Trona"
oil on canvas
14" x 14"
2019
.
.
50% of all gallery proceeds from the sale of art will be donated to the San Diego COVID-19 Community Response Fund
.
.
Watch 
@bestpracticeok
for available paintings. DM for prices.
.
.
Consider donating to the San Diego COVID-19 Community Response Fund directly. 
@sandiegofoundation
Other links: I love Patrick Dunford's paintings (above), flossy goats are taking over this town, about grief, HyperNormalisation, how to write when the planet is falling apart, the people of Las Vegas (when we still went outside), celebs, Roman Fever, and Nan Goldin.
Stay well. Wash your hands. Don't touch your face. Be kind, stay inside. And if you can, donate. Forgive my grammar. Sending as much peace as possible.
[Image list: Screen still from Empire Records (1995), Graham Little, unknown but apt cartoon gif, Maite Grandjouan, Patrick Dunford.]
Lastly, here is a puppy in a field: